Copyright 2008, T. James Truman & Associates, A Professional Corporation - All Rights Reserved
Tracy James Truman, Esq.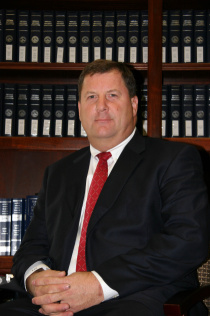 From 1988 to 1993, Tracy was associated with a medium-sized law firm in Las Vegas representing numerous construction-related entities, with an emphasis on collecting past due accounts through the use of liens and other techniques. This experience gave him extensive understanding in handling mechanic lien related matters, bonds and sureties, using writs of garnishment, execution, and attachment, as well as discovering assets owned by debtors. He also has experience in contract negotiations, and representing clients in licensing issues before the Nevada State Contractors Board. Tracy also handles insurance, land use, zoning, and real estate transaction matters. Tracy's trial experience includes personal injury jury trials, construction claims, and collection matters. His extensive trial experience includes a successful verdict of over $600,000.00 to foreclose on a mechanic lien, and several recent bench and jury trials where he recovered judgments of over $750,000.00 in commercial landlord\tenant disputes. He has taught seminars to other lawyers on construction and debt collection issues, as well as mechanic lien collection actions.
He is a member of the Nevada Bar Association, and the Clark County Bar Association. He is also a current member of the Nevada Trial Lawyers Association. Tracy was selected to organize and represent the American Subcontractors Association of Southern Nevada.
Tracy graduated from Southern Utah State College in 1985 with a Major in Political Science and Minors in Business Administration and English. In 1988, he graduated from the Northwestern School of Law, Lewis and Clark College and received his Juris Doctor degree. Tracy graduated in the top one-third of his class and was hired by the law school during his second year of Law School as a Teaching Assistant in the Legal Research and Writing Program. During his third year, he was chosen as an Assistant Instructor in the Legal Research and Writing Program.